Ribbon Bingo Fundraiser for Haiti Hospital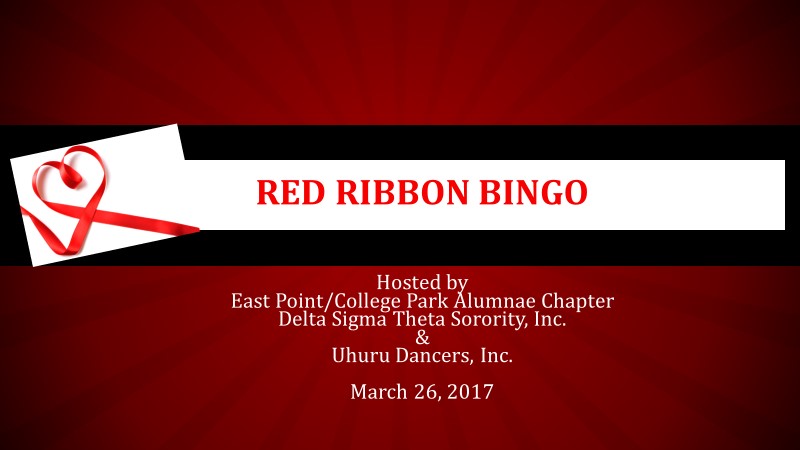 Under the oversight of the International Awareness and Involvement (IAI) Committee, the East Point/College Park (EP/CP) Alumnae Chapter of Delta Sigma Theta Sorority, Inc. in partnership with Uhuru Dancers, Inc. hosted RED Ribbon Bingo, a fundraiser to support the pediatric and maternal HIV/AIDS program at St. Damien Pediatric Hospital in Tabarré, Haiti and other 2016-2017 chapter IAI global initiatives.
On March 26, 2017, 456 of our closest fashion-forward female friends gathered to enjoy an afternoon of "fun with the girls" while raising money for IA&I global initiatives.  Guests played 10 rounds of Bingo.  The winner of each game left with a new, designer handbag.  On-trend designer handbags included Prada, Tory Burch, Kate Spade, Michael Kors, Coach and more.  There were even handbags flown in from Senegal and South America.  The top prize was a RED Prada!
We provided a relaxing environment with an engaging Bingo Caller, a DJ, food and beverages. The program included the Table Toppers Award.  Each guest at the winning table received a Kate Spade wallet. A highlight of the program was the Shirley Caesar "You Name It" Challenge.  The first five courageous ladies to reach the stage delivered their best dance renditions to the YouTube viral sensation "I got beans, greens, potatoes, tomatoes, lamb, rams, chicken, turkey.  You Name It!!!  The winner was selected by audience response and received a designer handbag. The other four participants received designer gifts, as well.
Members of the Eta Kappa Chapter of Delta Sigma Theta Sorority, Inc. at Spelman University served as hostesses for RED Ribbon Bingo.  These young ladies ensured that the needs of the guests were met and assisted with verification of winning Bingo cards.
To earn their public service awards, kindergarten and first grade girls in Daisy Troop 3551 at A. Phillip Randolph Elementary School partnered with IA&I to collect onesies, tee shirts and underpants for the children treated at St. Damien.  The Daisies also completed an instructional program on Haiti and benevolence that included the creation of hand-made get well cards for St. Damien patients.  Ms. Nicole Fuller is the troop leader.
Members of EP/CP and the Daisies donated an overwhelming number of these items for St. Damien patients. RED Ribbon Bingo guests brought even more donations with them when they came to play Bingo, especially tables 9 and 30.  As a result of this donation drive, approximately 300 onesies, tee shirts and underpants will be donated to St. Damien patients.
RED Ribbon Bingo was absolutely a party with a purpose. Healthcare professionals from Aniz, Inc. were onsite to conduct HIV/AIDS testing in private rooms. Results were available in approximately five minutes.  HIV/AIDS facts were presented throughout the afternoon as a part of game play.  A special guest was featured in the HERstory segment of the program.  This courageous young woman discussed her personal journey as a woman living with HIV.
Haiti has made tremendous progress in recent years in its efforts against HIV and AIDS, reducing new infections, lowering AIDS-related deaths and increasing access to treatment. Yet, the small island nation still has a long way to go to be HIV free. Fifty-five percent of all HIV positive people in the Caribbean live in Haiti. As in many places, women and girls are disproportionately affected due to stigma and cultural practices. Young women in Haiti are three times more likely to be HIV-positive than young men. One of the champions leading the charge for an AIDS free generation in Haiti is Dr. Jenny Edouard and her dedicated team at St. Damien's Pediatric Hospital. An added surprise treat was the Skype presence of Dr. Jenny Edouard, who coordinates the public health and HIV program at St. Damien.
Dr. Reaneé Ivey Ellis is the sorority contact for RED Ribbon Bingo. For additional information, please contact her at redribbonbingo@gmail.com.